Jesus Christ
Who is Jesus Christ?
Is He who He said He is; Saviour of the world, the Son of God, or is He the world's greatest scam artist?
This is a question that you would, at one time or another, want an answer. And the answer will determine how you live your life and what kind of life you will have here and hereafter.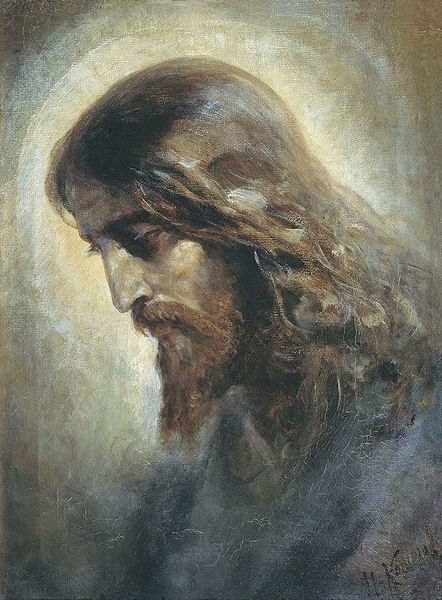 Painting of Jesus Christ by Nikolay Koshelev
What People Said About Jesus
"We should live our lives as though Christ was coming this afternoon." 
― Jimmy Carter
"Those who meet Jesus always experience either joy or its opposites, either foretastes of Heaven or foretastes of Hell. Not everyone who meets Jesus is pleased, and not everyone is happy, but everyone is shocked." 
― Peter Kreeft, Author of Jesus-Shock
"I like your Christ, I do not like your Christians. Your Christians are so unlike your Christ." 
― Mahatma Gandhi
"It is Jesus that you seek when you dream of happiness; He is waiting for you when nothing else you find satisfies you; He is the beauty to which you are so attracted; it is He who provoked you with that thirst for fullness that will not let you settle for compromise; it is He who urges you to shed the masks of a false life; it is He who reads in your heart your most genuine choices, the choices that others try to stifle.
It is Jesus who stirs in you the desire to do something great with your lives, the will to follow an ideal, the refusal to allow yourselves to be ground down by mediocrity, the courage to commit yourselves humbly and patiently to improving yourselves and society, making the world more human and more fraternal." 
― Pope John Paul II
"I'm delighted to tell you that Jesus Christ offers complete and total forgiveness to anyone who will repent and believe on His name. ...There are no sins that He cannot cleanse, and He's promised that they will be gone forever." 
― James C. Dobson
"Not only were the Jews expecting the birth of a Great King, a Wise Man and a Saviour, but Plato and Socrates also spoke of the Logos and of the Universal Wise Man 'yet to come'. Confucius spoke of 'the Saint'; the Sibyls, of a 'Universal King'; the Greek dramatist, of a saviour and redeemer to unloose man from the 'primal eldest curse'. All these were on the Gentile side of the expectation. What separates Christ from all men is that first He was expected; even the Gentiles had a longing for a deliverer, or redeemer. This fact alone distinguishes Him from all other religious leaders." 
― Fulton J. Sheen, in His book 'Life of Christ'
Who is Jesus Christ?
Was Jesus a con man? Did he conceived a scam to deceive the simple-minded and ignorant people of his time? What was his objective for this scam? What did he gained from deceiving the people?
Indeed, if it was a scam, it was the greatest scam of ALL time; for people, from all walks of life throughout history long after his life and death, believed and multitude still believe in him.
Who was this Jesus who could conned the world so absolutely?
He told His disciples when they were fighting for the best place/position in His kingdom; "For even the Son of Man did not come to be served, but to serve, and to give His life a ransom for many." Mark 10:45
In another place, He said; "And I, when I am lifted up from the earth, will draw all people to myself." and it was written that 'He said this to show the kind of death he was going to die.' John 12:32-33
Also in Matthew 6:21, it was written 'From that time Jesus began to show to His disciples that He must go to Jerusalem, and suffer many things from the elders and chief priests and scribes, and be killed, and be raised the third day.'
Wow! A con man whose primary reason for living was to serve and to die. Amazing!
He Came To Die
Jesus talk much about His death to His disciples. And He did died. He was crucified on the cross and died after fulfilling what was written about Him in the Scripture.
John 19:28-30 told us about the last moment of His life on the cross.

"Later, knowing that everything had now been finished, and so that Scripture would be fulfilled, Jesus said, "I am thirsty." A jar of wine vinegar was there, so they soaked a sponge in it, put the sponge on a stalk of the hyssop plant, and lifted it to Jesus' lips. When he had received the drink, Jesus said, "It is finished." With that, he bowed his head and gave up his spirit." - John 19:28-30

No one took His life from Him. It was written that He gave up His spirit Himself.
Jesus died.
But...on the third day He rose from the dead and was seen of His disciples.
This was an account written by the Apostle Paul, once a zealous persecutor of the Christians but converted after his encounter with the risen Christ.
He wrote:
"For I delivered to you first of all that which I also received: that Christ died for our sins according to the Scriptures, and that He was buried, and that He rose again the third day according to the Scriptures, and that He was seen by Cephas, then by the twelve. After that He was seen by over five hundred brethren at once, of whom the greater part remain to the present, but some have fallen asleep. After that He was seen by James, then by all the apostles. Then last of all He was seen by me also, as by one born out of due time." - 1 Corinthians 15:3-8

He Came To Serve
And after His death, His disciple said this of Him. 

"How God anointed Jesus of Nazareth with the Holy Ghost and with power: who went about doing good, and healing all that were oppressed of the devil; for God was with him." Acts 10:38

Indeed, it was written in Matthew 4:23 that 'Jesus went throughout Galilee, teaching in their synagogues, preaching the gospel of the kingdom, and healing every disease and sickness among the people.'
This is what another said of Him:
John 3:2 Now there was a man of the Pharisees named Nicodemus, a leader of the Jews. He came to Jesus at night and said, "Rabbi, we know You are a teacher who has come from God. For no one could perform the signs You are doing if God were not with him."
Wow! A 'conman' who went about doing good. Truly amazing!

What Jesus Said About Himself
The Son of God
Jesus Himself claimed to be the Son of God. When Peter in response to His question, "But who do you say that I am?" answered, "You are the Christ, the Son of the living God." Jesus blessed him and said "Blessed are you, Simon Bar-Jonah, for flesh and blood has not revealed this to you, but My Father who is in heaven..."  (Matthew 16:15-17)
In many instances, Jesus called or referred to God as 'My Father'.
The Messiah
Jesus said that He was Jesus the Christ.
The word 'Christ' comes from the the Greek word 'christos' which means 'anointed' and is equivalent of the Hebrew word 'mashiach' or 'Messiah'.
So when Jesus refers Himself as Jesus the Christ (Matthew 16:20), He was saying that He is the Messiah the Jews were waiting for; the Anointed One or Chosen One sent by God to save His people.
Then He commanded His disciples that they should tell no one that He was Jesus the Christ. (Matthew 16:20)

Also in Nazareth (Luke 4:16-22) and also to the Samaritan woman at Jacob's well (John 4:24-25), Jesus proclaimed Himself as the Messiah.
I Am That I Am
Jesus proclaimed Himself as the I Am which the Jews understood as equal with God. That's why they wanted to stone Him.
John 8:48-59 (NKJV)
Then the Jews answered and said to Him, "Do we not say rightly that You are a Samaritan and have a demon?"
Jesus answered, "I do not have a demon; but I honor My Father, and you dishonor Me. And I do not seek My own glory; there is One who seeks and judges.  Most assuredly, I say to you, if anyone keeps My word he shall never see death."
Then the Jews said to Him, "Now we know that You have a demon! Abraham is dead, and the prophets; and You say, 'If anyone keeps My word he shall never taste death.' Are You greater than our father Abraham, who is dead? And the prophets are dead. Who do You make Yourself out to be?"

Jesus answered, "If I honor Myself, My honor is nothing. It is My Father who honors Me, of whom you say that He is your God. Yet you have not known Him, but I know Him. And if I say, 'I do not know Him,' I shall be a liar like you; but I do know Him and keep His word. Your father Abraham rejoiced to see My day, and he saw it and was glad."

Then the Jews said to Him, "You are not yet fifty years old, and have You seen Abraham?"

Jesus said to them, "Most assuredly, I say to you, before Abraham was, I AM."
Then they took up stones to throw at Him; but Jesus hid Himself and went out of the temple, going through the midst of them, and so passed by.
Who Jesus Is To Me
Personally, I believe in Jesus Christ. I believe that He is all Man and all God. He is the beloved Son of God. He is the Saviour of the world. (John 3:16)
Jesus Christ is my personal Saviour and my Lord. He suffered and gave His life on the cross for me so that I could be made the righteousness of God in Him. He took my sins and was judged and punished in my place. 
He opened the way into God's presence for me and enables me to call God, 'Abba Father' - a personal relationship with God only made possible through Jesus' death on the cross.
I have known Jesus Christ for more than half my life now. He is no scam. He is no figment of my imagination or what some might said a 'pacebo'; a crutch for the weak-minded.
Jesus Christ is real. He is alive and He is very present in my life. And because of His presence in my life, I can rejoice and welcome each day with great expectation and open arms. Jesus said, "...I am come that they might have life, and that they might have it more abundantly." (John 10:10)
Everything is beautiful because I have Jesus Christ in my life.
What about you? 
If you have yet to know Jesus Christ, I pray that you will take some time now to ask Him into your life by praying the below prayer.
Prayer
Dear Father, I believe that Jesus Christ is your beloved Son. You sent Him to die for my sin on the cross.
He was cursed that I might be blessed, He was judged that I might be made righteous.
Dear Jesus, thank you for dying for me on the cross. I am a sinner and I need you as my Saviour. I receive you as my personal Lord and Saviour now.
Amen
---
A Simple Christian

›
Who is Jesus Christ?
Help Me Spread the Word!


If you like and are blessed by the articles in A Simple Christian and believe that others can benefit from them, then please help me share this website with your friends. Just click on the share buttons below to tell your fans and friends. Thank you for sharing the good things in life. God richly bless you with His manifold blessings:-)