Various Christian Crosses

- The Cross Symbol
- Images and A Brief Description of Each
Christian crosses are everywhere. Each has two bars intersecting one another perpendicularly. Some of these symbols have more than one cross in its design.
The above wooden cross is an example of a simple cross.
It is found hanging on the wall of the chapel in St. James Church, Singapore. The church is next to a petrol kiosk at Holland Village and a short walk from the MRT station.
If you are anywhere around Holland Village, you might want to drop in and have a look.
It's a very conducive place for spending time alone with the Lord as most of the time during the weekdays, there's no one there. 
Personally, because of its proximity to the MRT station and the serenity of the place, I love going there to spend time in prayer and waiting on the Lord.
---
Below are some of the notable christian symbols that might be good to know and recognise.

Note: Are you wearing a cross jewelry; maybe it's a necklace around your neck, a pendant, a charm bracelet, or a ring with this symbol as the main focus design? If so, why are you wearing it? Read more about this here.
Some Christian Crosses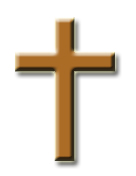 Known as the Latin cross or crux ordinaria, this is the most common cross symbol in Christianity. A favorite amongst Protestant Christians, this simple cross reminds of the resurrection of Jesus Christ.
This is an example of a Celtic Cross. It has a circle around the cross bar and usually has some intricate designs on it. 

An example of the Graded Cross commonly known as the Cross of Calvary. It has three steps at the bottom of the cross. These could represent the hill of Calvary or represent faith, hope and love.
The Greek Cross has four equal arms. It is one of the most ancient crosses. 
---
There are other kind of cross designs but I will need more extensive study and research to be able to add them here. If you know of any, I would appreciate if you contact me and tell me about it or comment below.
Pagan religions and cults also have their own symbols so it is of much importance that we know what each symbol represents.  Not all crosses are Christian crosses. Look carefully before you purchase any accessories that has a cross design on it.
This is especially important since most of us Christian love to wear cross jewelries on our bodies; example, cross pendant, earrings and bracelets as mentioned above. It is better to do a bit of research online or in the library before wearing something that might not be appropriate and has a different meaning from the Christian cross.
3 Song & Hymn Lyrics About The Cross
Chris Tomlin - At The Cross (Love Ran Red)
There's a place where mercy reigns and never dies
There's a place where streams of grace flow deep and wide

Where all the love I've ever found
Comes like a flood
Comes flowing down
At the cross
At the cross
I surrender my life
I'm in awe of You, I'm in awe of You
Where Your love ran red
And my sin washed white
I owe all to You, I owe all to You
Jesus 
Hillsong - At The Cross
Oh Lord You've searched me
You know my way
Even when I fail You
I know You love me
Your holy presence
Surrounding me
In every season
I know You love me (x2)

At the cross I bow my knee
Where Your blood was shed for me
There's no greater love than this
You have overcome the grave
Your glory fills the highest place
What can separate me now
You go before me
You shield my way
Your hand upholds me
I know You love me
You tore the veil
You made a way
When You said that it is done
And when the earth fades
Falls from my eyes
And You stand before meI know You love me (x2)
Isaac Walts - At The Cross
Alas! and did my Savior bleed?
And did my Sov'reign die?
Would He devote that sacred head
For such a worm as I? 
At the cross, at the cross,
Where I first saw the light,
And the burden of my heart rolled away -
It was there by faith I received my sight,
And now I am happy all the day. 
Was it for crimes that I have done
He groaned upon the tree?
Amazing pity! Grace unknown!
And love beyond degree! 
Well might the sun in darkness hide
And shut its glories in,
When Christ, the mighty Maker, died
For man the creature's sin. 
Christian Crosses - The Cross Symbol 
in Christian Gifts and Other Products
T-Shirts
Jewelry
Bumper Stickers
Window Decals
Sculptures 
Arts
Plaque
Tapestry
Lapel Pins
Magnets
Greeting Cards
Coffee Mugs 
---
Help Me Spread the Word!


If you like and are blessed by the articles in A Simple Christian and believe that others can benefit from them, then please help me share this website with your friends. Just click on the share buttons below to tell your fans and friends. Thank you for sharing the good things in life. God richly bless you with His manifold blessings:-)