If God Brings You into any situation,
trust Him to bring you through it.
"If God brings you to it, He will bring you through it."
I received these words from a friend one day in my smart phone. As usual, I briefly glanced at it. Then another day while deleting some of the messages in my phone, I came across it again. This time, I thought; "That's a good inspirational quote to share with my readers." and then absolutely forgot all about it.
The third time I saw this quote, I took time to ponder over it because it speaks to my heart and my situation.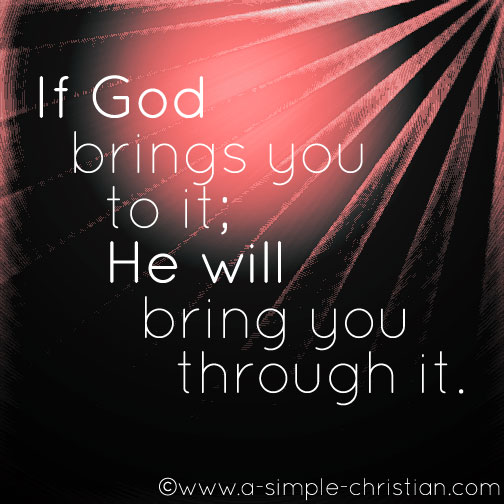 My Life Experiences
Do You Need Encouragement?
Do you or anyone you know need encouragement, there are lots of bible verses to encourage us in time of uncertainties.
Click here and be encouraged by this list of Encouraging Bible Verses.
Pondering on "If God brings you..." I have come to realize that God has been with me through my life events in the past one year.
The past year (2012) had not been an easy year for me. In fact, before the close of last year, my life was kind of disrupted abruptly by events that were beyond my control.
At that time, I did not see the hand of God in it at all. I was disturbed by the first event. I will call it, The Great Betrayal.
An action on my part which I thought was a good Christian act resulted in the turning away of 'two friends' whom I had been spending a lot of time with.
Then, my brother and his family were having difficulties with my mom who was diagnosed with severe dementia. As admitting her into a nursing home was out of the question, she came to stay with me and I became her main caregiver.
As a full-time caregiver, my hands were full with caring for her needs. At first, she was still able to go to the senior care centre every day but then she had difficulties moving around and became housebound. Naturally, I have to be with her 24 hours a day unless someone releases me for a few hours.
A few months into being a caregiver, my closest friend passed on to be with the Lord after a sudden illness. It was a shock and a shattering experience for me. Suddenly, I felt alone, betrayed and forsaken. 
Have you felt that before? Like God has taken away every support you have and the only hope is Him.
It's like you are drowning in deep water and there's no help at hand.
Have you experience that in your life? Or is it your present situation?
Let us not despair...for God is very near and He cares.
If God Brings You To It

Romans 8:28
And we know that in all things God works for the good of those who love him, who have been called according to his purpose.
I'm certain that God has brought me to this moment in time. I believe that He is the Orchestrator of my life and every event that happened has His seal of approval.

Indeed, if God Brings You into any situation, trust Him to bring you through it.
It's not that God created the problems in my life; for example the death of my good friend. No. God is not like that. In fact, He does not wish for any death or misfortune in our lives. God's heart is always for us - wanting the best for us.  But He allows events to happen for our ultimate goods. It's like He withhold His hand of protection for a moment and allow bad things to reach us but He is still in control. He never leave us for a moment. He is a silent companion walking beside us all the time. He knows how much we could take and that we will come out stronger and more established in Him. 
As a Christian, yielded to God's will and committed to do His will, I know that I might not be perfect but as I surrender my life to Him day by day, He holds my destiny in His hands and brings to perfection that which is lacking in me through situations and life experiences.
If God Brings...He Will Bring You Through It

If God brings - I know that it is God who has brought me into this and am certain that He will bring me through each and every situation. He is a God who is alongside me; supporting and strengthening all the way. 
So...
It's not 'If God brings...' but rather 'God has brought me...'
What about you? Where you are now - has God brought you there? If God brings you to it, then He will bring you through it.
Or is it a situation of your our creation? If you have end up where you are because of your own wilfulness, then it's time to repent and ask God for help. Only He can bring you out of it and back to higher ground.
But if you are where you are and you know you are in the centre of God's will, be assured that that is the safest place to be. He is there with you and will see you through this difficult journey.
Isaiah 41:10
So do not fear, for I am with you; do not be dismayed, for I am your God. I will strengthen you and help you; I will uphold you with my righteous right hand.
Isaiah 43:2
When you pass through the waters, I will be with you; and when you pass through the rivers, they will not sweep over you. When you walk through the fire, you will not be burned; the flames will not set you ablaze.
There are promises in the Bible that assure us of the Presence of God with us. Jesus promised His disciples that He will be with them even to the end of the world when He commissioned them to go and preach the gospel.
Matthew 28:18-20
Then Jesus came to them and said, "All authority in heaven and on earth has been given to me. Therefore go and make disciples of all nations, baptizing them in the name of the Father and of the Son and of the Holy Spirit, and teaching them to obey everything I have commanded you. And surely I am with you always, to the very end of the age."
God has brought us thus far...and He will bring us through to the very end. Our faith looks up to Him - our help comes from the Lord, the Maker of heaven and earth.
Psalm 121
I lift up my eyes to the mountains—
    where does my help come from?
My help comes from the Lord,
    the Maker of heaven and earth.
He will not let your foot slip—
    he who watches over you will not slumber;
indeed, he who watches over Israel
    will neither slumber nor sleep.
The Lord watches over you—
    the Lord is your shade at your right hand;
the sun will not harm you by day,
    nor the moon by night.
The Lord will keep you from all harm—
    he will watch over your life;
the Lord will watch over your coming and going
    both now and forevermore.
No! We are not alone. We are not forsaken or abandoned. We are the Lord's own and He is with us and in us; helping us all the time.
"If God brings you to it, He will bring you through it."
On certain day we might not feel His Presence. But those, I believe, are days and moments when He is nearest to us.
My Faith Looks Up To Thee
Words: Ray Palmer, 1830.
My faith looks up to Thee,
Thou Lamb of Calvary, Savior divine!
Now hear me while I pray, take all my guilt away,
O let me from this day be wholly Thine!
May Thy rich grace impart
Strength to my fainting heart, my zeal inspire!
As Thou hast died for me, O may my love to Thee,
Pure warm, and changeless be, a living fire!
While life's dark maze I tread,
And griefs around me spread, be Thou my Guide;
Bid darkness turn to day, wipe sorrow's tears away,
Nor let me ever stray from Thee aside.
When ends life's transient dream,
When death's cold sullen stream over me roll;
Blest Savior, then in love, fear and distrust remove;
O bear me safe above, a ransomed soul!
For more Christian hymn lyrics, visit www.greatchristianhymns.com
Stronger In Him
Have faith! Lean on the Lord! The Lord Jesus promised to be with us. He will strengthen us. He is our confidence. Let us look to Him alone. Take this opportunity to turn totally to Him - to cast all our cares on Him.
He alone is our salvation. And He will not fail us. NEVER!
He never promised us an easy journey but did promised to be with us. And with His Presence, that will suffice.
Be assured that He will bring people along the journey to encourage us. He will provide for all our needs. He is our all in all. Let us embrace Him, lean on Him and walk each step of this journey trusting in His goodness and faithfulness. He even gave His life for us on Calvary, so there's nothing He would withhold from us.
Yes! If God brings us into a situation, He will bring us through it and we will come out of it stronger in the Lord.
Never lose hope. If God brings you in, He will brings you through and out of the situation.
Jesus never fails!
---
Have a Testimony? Add Your Own Story Here!
Do you have a testimony to share of how God brings you out of a difficult situation? Share your story on the Comment section below with us.
---
Help Me Spread the Word!


If you like and are blessed by the articles in A Simple Christian and believe that others can benefit from them, then please help me share this website with your friends. Just click on the share buttons below to tell your fans and friends. Thank you for sharing the good things in life. God richly bless you with His manifold blessings:-)