Enriching Christian Crafts
- meaningful and enjoyable pastimes for adults and kids
There are various Christian crafts that are most enjoyable whether done individually or with others. These craft projects can also help bring people together - connecting lives, strengthening family ties and forging friendships.
Benefits of Crafting

Craft projects are great ice-breakers. When crafters get together, we can chat for hours admiring each other's handiworks and exchanging tips and ideas. At the same time, during this leisure time of creativity, we tend to also share thoughts and feelings about current news and events in our lives.
For each individual crafter, it is a stress relief exercise - an outlet for ones creativity.
When enjoyed together, these crafts can be means of forming social networks - an avenue to get to know others and connect with a common interest.
Personally, I have used crafting time to de-stress. I also use crafts;  like card-making and scrapbooking to help others who are troubled and depressed.
Designing a Card
Whether crafting alone at home or with other Christian friends, it is a good time to relax and have fun.

Create a playlist of soft background music to accompany you during your creative moment.
Some Notable Christian Crafts

Card Making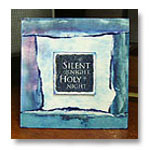 Christmas Card
This is a papercraft enjoyed by many.
Using rubber stamps, computer cliparts and fonts and embellishments, many crafters have been hand making greeting cards at home alone or with friends.
Swaps have been hosted to swap homemade cards with one another.
This is a very satisfying and meaningful hobby because with every card made and sent, one can touch a life for good.
The time and dedication put into making the greeting card and a heartfelt Christian message personally handwritten can bring so much encouragement to someone who's down and in need of a friend.
Definitely, nothing can beat receiving a handcrafted greeting card.
Scrapbooking

A craft that attempts to preserve memories with photographs, memorabilia and journalling.
This is quite a time consuming hobby which uses archival materials to preserve photographs and other items included in the scrapbook albums.
Like card-making, scrapbooking allows the crafter to work on projects individually or with others. It is a good creative craft enjoyed by women of all ages and walks of life.
This is the same as scrapbooking. The only thing is that here, within the Christian faith books are notable memories of spiritual events, devotional thoughts, Christian quotes and poems and other Christian messages that touches ones life.
It is a photographic journal of ones spiritual journey from one stage of growth to another.
Although photographs are important elements both in the craft of faith-booking and scrapbooking, you do not need to add photo to every page. Some doodling, drawings and paintings might be added for illustrations.
Click here to learn about How to Start a Faith Journal.
Cross-stitching

The craft of using embroidery threads to sew cross shaped stitches on a even weaved fabric has been going on since ages ago.
Many beautiful tapestries of Biblical scenes have been cross-stitched by Christian women; decorating homes and churches.
Quilting

Many women including Christians love to quilt. Designing, measuring, cutting and piecing fabrics together to form a quilt is a craft that many of the older women enjoy doing.
My mom loved to quilt. She would spend days working on a quilt blanket for one of us. I still have a lovely pink colour quilt that she made for me some years ago. Now that she is in the advance stage of dementia and hardly if ever recognise us, we treasure her handiworks so much more.
Recycling Arts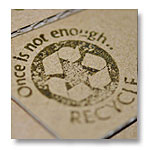 Tag Art
Making arts from something that have been used before is not only being creative but it is also helping the earth - the place that God has entrusted to us. This is our Father's world and it is up to us to not litter it with trash but rather to beautify it and glorify our God.
When we work on a piece of recycled art, we are being a good steward and taking care of God's creation.
And as a simple Christian living a simple but effective Christian life, we can do our part to help the earth by making useful and beautiful things from 'trash'. Let us start making use of what we have.
Ideas for Recycled Arts
---
The above Christian crafts are activities we can do alone, with a friend or as a group. Hope that these mentioned Christian crafts will help to inspire you to make room for some creative time for yourself.
Have fun!
---
Help Me Spread the Word!

If you like and are blessed by the articles in A Simple Christian and believe that others can benefit from them, then please help me share this website with your friends. Just click on the share buttons below to tell your fans and friends. Thank you for sharing the good things in life. God richly bless you with His manifold blessings:-)